125 Years of Agatha Christie
Welcome to the 125th anniversary of Dame Agatha Christie, author of over 80 novels and short stories, writer of the world's longest running stage play, mastermind behind countless murders, creator of world-famous detectives Hercule Poirot and Miss Marple.
To celebrate this incredible legacy exciting events, campaigns and productions took place throughout 2015.
TV Adaptation of And Then There Were None
Agatha Christie's And Then There Were None is the best selling crime novel of all time, with over 100 millions copies sold worldwide, and for the first time the book was adapted into a major new television series for BBC One. Featuring a stellar cast which includes Douglas Booth (Great Expectations, The Riot Club), Charles Dance (Game of Thrones, Imitation Game), and Aidan Turner (Poldark, The Hobbit Trilogy), this three-part adaptation is really one not to be missed. Find out more about the adaptation.


#125Stories - Discover genuine fan letters sent to Agatha Christie and share your own
As part of the 125th anniversary celebrations of Agatha Christie, we shared fan letters sent to the Queen of Crime and encouraged fans to share their own. Inspired by fan letters found tucked away in the archive, #125Stories gave fans the privilege to read these fantastic letters and the opportunity to join in the conversation by sharing their own stories.

Agatha Christie : Unfinished Portrait
In 2015 Agatha Christie Ltd created an exhibition focusing on Christie's life and legacy. Agatha Christie: Unfinished Portrait showcased previously unseen photographs of the Queen of Crime paired up with her own quotes from An Autobiography.
The exhibition premiered at Bankside Gallery in London's Southbank before touring to Torre Abbey in Torquay for The International Agatha Christie Festival.

The World's Favourite Christie Vote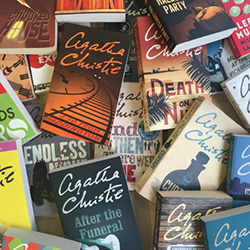 Following a global vote And Then There Were None was named the World's Favourite Christie in September 2015. In second place came Murder on the Orient Express and in third The Murder of Roger Ackroyd. Over 15,000 fans from over 100 countries joined the vote.

New BBC Drama - Partners in Crime
A brand new adaptation of Agatha Christie's detective duo Tommy & Tuppence aired in the UK in the summer of 2015. Starring David Walliams and Jessica Raine as Tommy and Tuppence, Partners in Crime follows the adventures of the married crime-fighting duo in six episodes based on The Secret Adversary and N or M? "In bringing these thrilling stories to the screen, it is our ambition for Tommy and Tuppence to finally take their rightful place alongside Poirot and Marple as iconic Agatha Christie characters," said actor David Walliams.