A natural predator in any circumstance, and he knows it. Lombard has made a life in Africa as a soldier of fortune, not through greed or political conviction but because it's how he feels most thoroughly himself. Whether what he does makes him a good or a bad man is immaterial.

A self-proclaimed Agatha Christie fan Aidan says: "It's a very clear story with unique, independent characters who have their own agendas, so from the offset its very clear what's happening even though there is ambiguity about the plot. It's a genre I haven't really done before so everything appealed to me for this one."

It is a rite of passage for British actors to be in an Agatha Christie adaptation and this is the quintessential Christie story albeit a really dark one.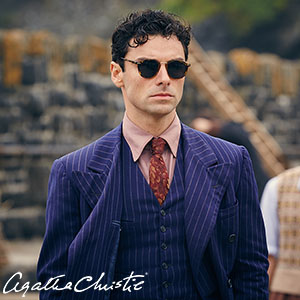 Discussing his character, Aidan reveals Lombard is an Irish mercenary with a shady past. "He's totally shady. He's kind of amoral as well and has a complete disregard for humanity. There's nothing he wouldn't do, I wouldn't put anything past him. He's a nasty kind of guy and you get the impression he's done some horrible things in his life and he's not really regretful of any of them."
The element that surprised Aidan the most was the line up of his fellow cast members. "I was on set with all these amazing actors who I have revered and looked up to for years. It was exciting."
Discover more about the cast of And Then There Were None.