Book of the Month
Read Christie 2019
Hello and welcome to Read Christie 2019, the official Agatha Christie reading challenge. Don't forget to download your reading list, so you can share your progress with us! We'll be checking #ReadChristie2019 regularly, and sharing some of our favourites on Instagram and Twitter. So, on to our March choice: A Miss Marple story!
To celebrate the arrival of the European stage premiere of The Mirror Crack'd, we've chosen to read The Mirror Crack'd from Side to Side this month. The eighth novel to star Miss Marple, this book was written in 1962, and the sleuth is showing her age. The story challenges Miss Marple's skills of deduction, as she can't be on the scene to pick up clues about the case.
What's it about?
St Mary Mead's latest arrival to the village, American film star, Marina Gregg is causing a stir amongst the gossips. Miss Marple is unable to attend the charity fête the Hollywood starlet hosts at her new residence, Gossington Hall, so doesn't witness the untimely death of guest, local woman Heather Badcock.
She was a nice woman who talked too much, but nobody gets murdered for that - unless of course they give away secret.
Heather Badcock, a do-gooder, is from The Development. Why would anyone want to murder her? A spiked cocktail leads Marple, and Chief-Inspector Craddock to suspect that Marina was the intended culprit... But the list of suspects for Marina's murder is a little longer. Did the Butler, Giuseppe, poison the cocktail? Isn't Jason Rudd, Marina's latest husband, a little too protective? And does his secretary, even like the mistress of the house?
Rumours abound, and Miss Marple must stay abreast of them from home, as she recuperates after an injury. Cherry Baker - the cleaner, and imposing household help, Miss Knight, have plenty of details to help their employer decipher the facts. Meanwhile Craddock investigates poison pen letters, as further startling murders are carried out at Gossington Hall.
Why do we love it?
Inspired by tragic events in actress Gene Tierney's life, Christie demonstrates her ability to use real-life goings-on to create compelling fiction. This work has been adapted for the small screen several times, as well as for radio, and is now gracing the stage. This showcases the strength and versatility of the story. The cult of celebrity, village gossip and snobbery collide in this dazzling book. Miss Marple is as astute and entertaining as ever, refusing to let her age get the better of her.
We can't wait to hear what you think!
February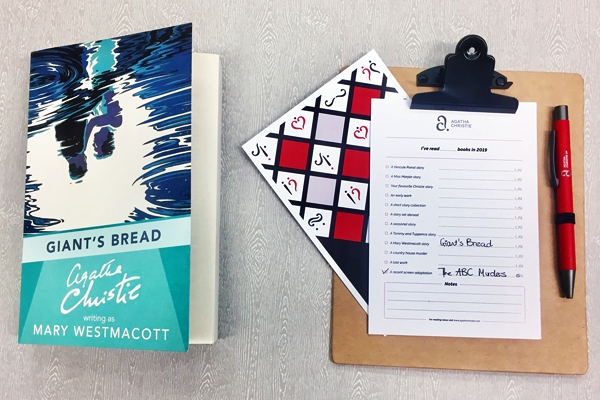 Welcome back to Read Christie 2019, the Agatha Christie reading challenge. To join us, subscribe to the Agatha Christie newsletter and download our 2019 reading list. You can share your choices for the year using #ReadChristie2019. For further details about the challenge, see below.
This month, we're getting stuck into a less conventional Christie. In fact, when this book was published in 1933, it wasn't an Agatha Christie story at all! That's right, we're reading Mary Westmacott's Giant's Bread this month. As we traditionally celebrate love in February, we thought it was the perfect time to choose one of her stories about passion – you won't be disappointed.
To be in love with Jane might be a whole-time job.
What's it about?

A young child called Vernon, who grows up at the country manor of Abbots Puissants. Learning to navigate an adult-centric world, we share Vernon's passions and fears (the piano - aka The Beast), uncover his father's indiscretions and meet his childhood friends, Sebastian and Joe. Divided into five parts, the story follows these three and their love interests, giving the reader insight into each character as they attempt to determine their correct course in life, with ample advice from friends and family to consider.

Sebastian, a passionate lover of music, is determined to encourage Vernon's musical talents. Vernon, pre-occupied initially with thoughts of marriage, is latterly consumed by his art, as he attempts to redefine the operatic form. Joe, who decided from a young age not to 'lose her head over a man', disregards social convention and seeks a match based on love.
Will questions of money, inheritance and honour thwart their youthful ambitions? Can their friendships withstand the strain?
Why do we love it?
A story of ambition, music, passion and sacrifice, this captivating narrative grows as the lives of the subjects do. Unlike anything Christie's crime readers will have seen before, this is the perfect introduction to her Westmacott novels. Expect feuding families, marriages of (in)convenience, and a healthy dose of artistic temperaments.
January
Welcome to our brand new reading challenge: Read Christie 2019.
We can't wait to read along with you this year, and have provided a brand new checklist to help prompt your Christie story exploration. The themes include 'A Miss Marple story', 'A late work', 'A seasonal story' and plenty more. You can choose to read the 12 stories we select, mix and match with some of ours, or select 12 of your very own. The 12 can be complete novels or individual short stories, and can include any audio adaptations you listen to too.
To download your checklist, simply sign up to our monthly newsletter and you'll receive a printable version straight to your inbox. The postcard will allow you to track your progress, the titles you choose, and to rate each one out of five. Already a subscriber? There's a link to download the list at the bottom of this article. Don't forget to share your lists, progress and thoughts with us on social media, using #ReadChristie2019.
So, on to our first choice…
After the UK premiere got everyone talking this Christmas, we thought it was the only choice to kick off our 2019 reading challenge. So here it is – we're reading a recent screen adaption, The ABC Murders this month.
What's it about?
The ABC Murders begins with a jibing letter to Hercule Poirot, signed A B C.
"You fancy yourself, don't you, at solving mysteries that are too difficult for our poor thick-headed British police?"
As A B C's first victim, Mrs Alice Ascher is found dead in her tobacconist at Andover, the detective claims that 'This is the beginning', and he's right. As the killer taunts Poirot by post, they continue to murder victims according to the letters of the alphabet, leaving an A B C railway guide at the scene of the crime – a seemingly impenetrable clue.
Searching for ways to link the murders, Poirot must travel the country with help from his companion, Captain Hastings. Working to prevent the murderer reaching Z, are a host of Scotland Yard officials, including Inspector Crome, who is keen to look at the psychology of the perpetrator. The letters could provide ample insight into the killer's motives, but can they afford to wait for another one…
Initially told by Hastings, the story is occasionally interrupted by the narrative of a Mr Alexander Bonaparte Cust, a travelling salesman who suffers from black-outs and memory loss.
Why do we love it?
Fast-paced and expansive, this story stands out in the Christie canon. Reading (or re-reading) the book reminds us that Agatha Christie didn't adhere to convention, or to the genre known as cosy crime. A fascinating read.

The ABC Murders is currently available on BBC iPlayer. It is available in the US on Amazon Prime Video.
Find out more about The ABC Murders (TV Show)
Download the Read Christie 2019 postcard