Christie's Wallingford
One of Agatha Christie's best kept secrets was her long association with Wallingford and its neighbouring parish of Cholsey. Here, in 1934, she and her new husband Max Mallowan purchased Winterbrook House, a substantial 18th century property, with seven acres of land sweeping down to the river Thames. It became their home base for the rest of their long lives together, until Agatha passed away there peacefully in 1976.
Why Wallingford?
Wallingford was a nice place. It had a poor railway service and was therefore not at all the sort of place people came to, either from Oxford or from London. 'I think,' said Max, 'we are going to be very happy there.' And sure enough we have been very happy there, for nearly thirty-five years now'
Agatha and Max were often away from Wallingford for several months of a year, abroad on archaeological excavations, or on holiday in Devon at Ashfield in Torquay, or later at Greenway, but they always came back to Winterbrook House. Here they had privacy away from the limelight, where they could work and feel comfortable at home together.
Agatha always considered Winterbrook House to be 'Max's house'. They adapted it to provide him with a substantial library looking across the meadows to the river, which, Agatha commented, 'Max has always thought of as ideal'. Agatha worked wherever she happened to be and many of her most famous books and plays were written or completed during her long years at Winterbrook House.
Town Life for Mrs Mallowan
In 1934 Wallingford was a typical small English market town, with a wide variety of shops and services, centred round its Market Place and fine 17th century Town Hall. With its Charter granted in 1155, it was once a renowned royal stronghold, protected by Saxon earth walls, and a massive royal castle - seat of the heirs to the throne for 500 years. Its last stand for King Charles I in 1646 saw its only, but final, downfall.
Agatha Christie used the name 'Wallingford' in only one book, Cards on the Table, but in a description of Market Basing in Dumb Witness she surely had Wallingford in mind:
… it had an air of old-fashioned dignity and quietude about it. Its one wide street and ample market square seemed to say, 'I was a place of importance once and to any person of sense and breeding I am still the same. Let this modern speeding world dash along their new-fangled road; I was built to endure in a day when solidarity and beauty went hand in hand.
Agatha seems to have had no desire to give away her private life. For her Wallingford was a place where she could enjoy being simply Mrs Mallowan - the 'married woman' she pronounced as her occupation on her passport. From Winterbrook House she would walk the couple of hundred yards into the centre of the town, carrying her wicker basket. She purchased essential personal items from a wide variety of shops, becoming well known as a regular customer in places such as the chemist, the haberdashery, the department store and the hairdressers. Although many of the locals knew she was the famous Agatha Christie, she was only ever addressed by her married name and her privacy was respected.
Many regular deliveries of local groceries were also made to Winterbrook House, and Mrs Mallowan was remembered by many who served her. At home, she and Max employed a small staff, usually comprising a live-in housekeeper (who was also a cook), a gardener and sometimes a handyman.
Local Involvement
Most local memories of the author belong to the post war years. Agatha had spent the war years writing and working in London while Max was on active duty. Winterbrook House was first used by evacuees, then let to friends, but by 1946 Agatha and Max were home there again. In 1951 Agatha was invited to become President of The Sinodun Players, a newly formed local drama society. They were amazed and delighted when she agreed, though it was with the strict proviso of no public duties. Agatha had a passion for pantomimes, and surviving letters from her older years reflect her thorough enjoyment of attendance at such events.
The Cholsey Connection
The small hamlet of Winterbrook in which the Mallowan home was situated, lay just outside the Wallingford boundary, in the parish of Cholsey. Despite the desire for anonymity, Agatha and Max participated in occasional local social gatherings with their neighbours, several of whom knew them quite well.

Agatha and Max chose to worship at their parish church of St Mary's, Cholsey, travelling by car the couple of miles to reach the quiet ancient church which stands on the edge of Cholsey village. Parts of the tower date back to the 10th century and inside are fine Norman arches and a 13th century chancel.

It was in the churchyard of St Mary's in Cholsey that Agatha Christie and Max Mallowan chose their burial plot, in a beautiful corner overlooking an area of outstanding natural beauty. There they now rest peacefully together.
The quietude of their grave is disturbed only occasionally by the evocative sound of steam or diesel trains on the heritage Cholsey & Wallingford Railway which passes close by. It was a branch line used occasionally by Agatha and Max to connect with the main line at Cholsey station.

Every year hundreds of Agatha's respectful admirers come in ones and twos from all over the world to pay her homage.
Visiting Agatha Christie's Wallingford today
Wallingford today is a beautiful Thameside town with a wonderful heritage and many green spaces to be explored.

Start your visit at Wallingford Museum. The museum has a permanent exhibition about Dame Agatha Christie and Sir Max Mallowan which includes some of her original letters and a collection of local stories from those who knew her. There are additional features on Midsomer Murders, for which Wallingford was the original 'Causton' and the town's early history springs to life in a wealth of displays about the medieval town and its royal castle, including a scale model.
Close to the museum you will be able to see, and sit next to, the fine life-sized bronze statue of Agatha Christie created by Ben Twiston-Davies in 2023. Read more about the new statue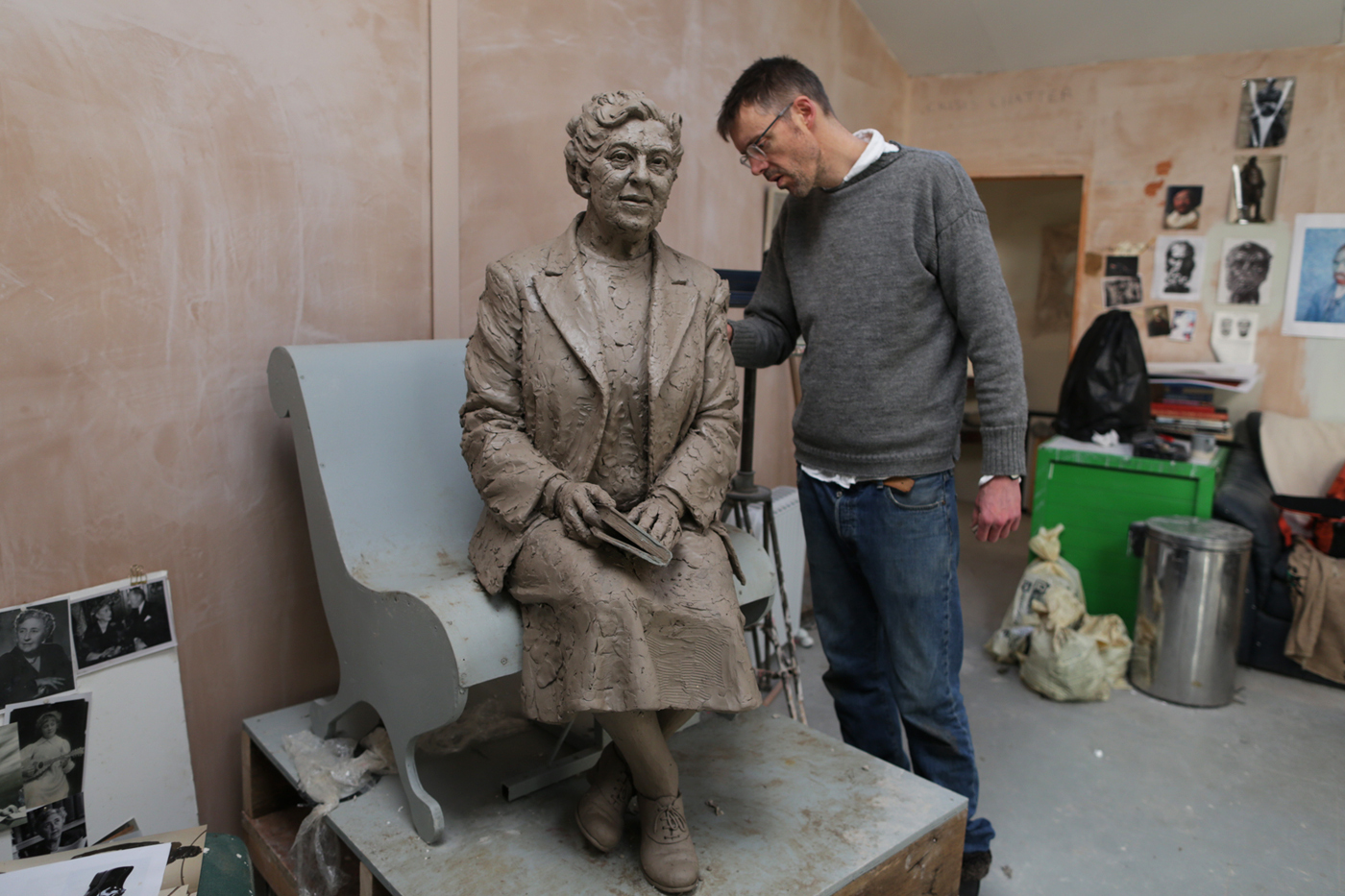 Within Wallingford you can explore the Market Place and the narrow Saxon streets, many of which remain much as Agatha would have known them; the fine variety of small shops may have changed their uses, but most of the buildings are the same, many of them listed as of historic interest. There are town trails and information boards to follow, or guided walks that can be booked through Wallingford Museum.

Winterbrook House is still a private residence, so can only be viewed from the front gate. However, a riverside walk along part of the Thames Path takes you past the meadows behind the house, along the stretches that Agatha used to walk regularly with her dogs.

Agatha Christie's grave is always available to visit in the churchyard of St Mary's Church, Cholsey. It can be reached by walking across the fields following the Agatha Christie trail (about three miles) or by car, or bus, and on certain weekends by heritage railway.
Written by Judy Dewey
About the Author
Judy Dewey is an historian, author, and curator of Wallingford Museum. She was founder secretary of The Wallingford Historical and Archaeological Society which received the Queen's Award for Volunteers in 2018 for Engaging the Community in Local History through research, archaeology, publications and its museum.
She is co-author, with Tony Rayner, of At Home with Agatha Christie – the Wallingford & Cholsey Connection. Published in 2022, available from Pie Powder Press.
Find out more about Wallingford at www.visitwallingford.uk: Plan your visit

Find out more about Christie's life on the English Riviera.
Discover Agatha Christie's relationship to the capital.