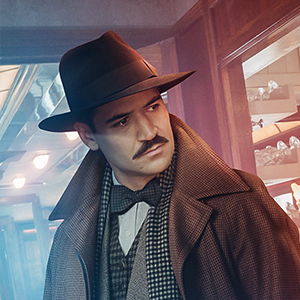 Manuel Garcia-Rulfo plays Marquez in Murder on the Orient Express. Marquez seems to harbour a secret. He isn't entirely straightforward and that becomes clear early on, quickly making him a target of Poirot's watchful eye.
Manuel Garcia-Rulfo grew up on a ranch with a large family in Guadalajara, Mexico. His grandfather, a film aficionado, created little plays and movies that Manuel would star in with his many cousins. At the age of 12, he travelled to the United States to stay with an American family for a year to immerse himself in American culture and learn to speak English. In high school, Garcia-Rulfo enrolled in a theatre program and that is when he knew he wanted to pursue an acting career. He saved his money, moved to Los Angeles and studied at the Larry Moss Studio.
Bless Me, Ultima, directed by Carl Franklin was Garcia-Rulfo's first American film. While continuing to star in films and television in Mexico, he appeared with Jennifer Aniston in Cake and had a major recurring role in the Robert Rodriquez series From Dusk Till Dawn. Garcia-Rulfo was most recently seen opposite Denzel Washington, Chris Pratt and Ethan Hawke in The Magnificent Seven. In 2018 he will next be seen as a brutal cartel kingpin opposite Benicio Del Toro in Soldado, the sequel to Sicario.
I like Murder on the Orient Express as Agatha Christie puts the moral dilemma of taking justice into one's own hands on the table. She resolves the mystery in a fascinating way and goes further than offering a conclusion to the interrogator over who killed the victim. It shows a vulnerability and compassion of a group of characters literally trapped in a confined space.
Discover more about the cast of Murder on the Orient Express.