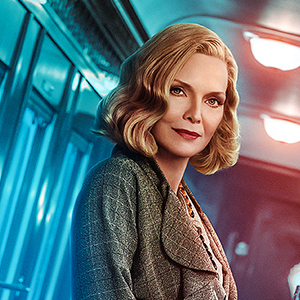 Golden Globe Award winner and three-time Academy Award nominee Michelle Pfeiffer steps into the shoes of Caroline Hubbard, a character Pfeiffer describes as being "a rather sweet, and tender, and often funny woman" who is also "very forceful, and to some people a little irritating and a little intense."
Michelle Pfeiffer has captivated film audiences with her stunning beauty and compelling performances for over three decades. With a repertoire including the likes of Scarface, Dangerous Liasons, The Fabulous Baker Boys, and Love Field, Pfeiffer has been honoured with a BAFTA Award, Los Angeles Film Critics Association Award, National Board of Review Best Actress Award and New York Film Critics Circle Award, and has also received a Screen Actors Guild Award nomination and five additional Golden Globe Award nominations for her performances.
Discover more about the cast of Murder on the Orient Express.