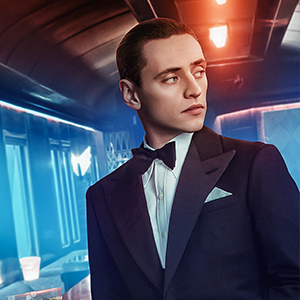 Renowned dancer Sergei Polunin plays Count Andrenyi, married to the Countess played by Lucy Boynton. Polunin describes his character as "very protective of his wife and he feels every step she takes." Talking of their relationship he says, "They are on the verge of splitting up because she has a problem that he must resolve - he just wants things to get better for her. She is a source of light in his life and he doesn't want her to go into the darkness."
Sergei Polunin started as gymnast then switched to ballet and trained at the Kyiv State Choreographic School, before joining The Royal Ballet School aged 13 on a scholarship from the Rudolf Nureyev Foundation. He became a first soloist at The Royal Ballet in 2009 and was promoted to principal in 2010, aged 19. Sergei left The Royal Ballet in 2012 to dance as a principal for the Stanislavsky and Nemirovich- Danchenko Moscow Theatre and as Guest Soloist with Novosibirsk State Academic Opera and Ballet Theatre. He is the subject of a biographical documentary, Dancer, produced by Gabrielle Tana.
At present he performs all over the world with leading ballet companies as well as creating new work with his own company Project Polunin.
I love the mystery about Murder on the Orient Express. You see when you read it. It's very interesting, dark, and very mysterious.
Discover more about the cast of Murder on the Orient Express.