Reading Lists
Eight Escapist Stories
We've selected some thrilling stories that will take you all around the world, without needing to leave your armchair. Where will your reading transport you?
Location: the Caribbean

Join Miss Marple as she pursues a quiet break in the Caribbean. As the sleuth starts to settle into a relaxed routine, Marple is suddenly faced with the death of a retired major, a major with some secret information.
Location: Devon

The Jolly Roger Hotel, set off the coast of Devon, is the perfect place for a British holiday. But seduction, jealousy and a consequent strangling prevent the Belgian detective from taking his recommended rest.
Location: Frankfurt
A diplomat is approached at the airport, and asked if he will assist in protecting an anxious woman. Part adventure story, part spy thriller, this story features stolen identities, and a frenzied escape.
Location: Blenheim

Miss Marple is puzzled by a letter from the late Mr Rafiel. She has been tasked with solving a crime, but with few clues as to where to start. A tour of the British countryside will reveal all.
Location: Jordan

Mrs Boynton, a recent widow, has little to recommend her. Hated by her step-children, and other travelling companions, this American lady has plenty of enemies. So when she's found dead, how will Poirot find the true culprit?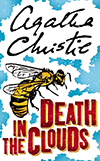 Location: Paris

This story begins amid a flight from Paris, which Hercule Poirot is seated on. An eager observant, Poirot notes the peculiar characteristics of his fellow passengers, before it is revealed that the woman in seat No.2. is dead.
Location: London

Miss Marple's stay in the city of London is luxurious, Bertram's Hotel like something from a vanished world. But despite the regular, and respectable crowd, danger lurks along the smart corridors.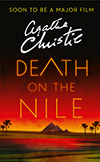 Location: Egypt

Hercule Poirot's river cruise is far from peaceful, as a newly-wed is shot dead. With a slighted lover on board, and plenty of witnesses to her deadly threats, Poirot suspects the case to be solved in no time. He hadn't counted on the multiple alibis...
Reading an Agatha Christie story? Share your favourite stories on social media using #100YearsofChristie. We love to see what you're reading.