News
Witness for the Prosecution extends run for second time
Witness for the Prosecution continues its hugely successful run at London's County Hall as it announces a second extension until 31st March 2019.
At the end of last month, a new cast took on the characters from Agatha Christie's 1953 play. New photos were released this week of the cast in full costume, following the first week of their performances together in the stunning court chambers venue.

Harry Reid, who spent four years in Eastenders as Phil Mitchell's son Ben, plays the accused Leonard Vole, with Lucy Phelps (Call the Midwife, King Charles III) playing opposite him as Romaine. Philip Franks (Art, Noises Off, Darling Buds of May) continues in the role of Mr Myers, for the prosecution, up against Richard Clothier (Fantastic Beasts and Where to Find Them, The Graduate) as Sir Wilfred Robarts for the defence.
Harry Reid as Leonard Vole
Lucy Phelps as Romaine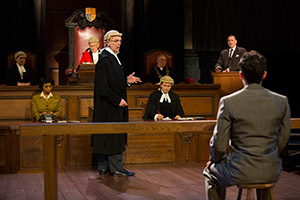 Philip Franks as Mr Myers
Richard Clothier as Sir Wilfred Robarts