News
The Christie Christmas Gift Guide 2019
A Christmas gift guide designed to make shopping for crime, mystery and Christie fans that little bit easier! Whether you need an easy stocking filler, a treat for secret Santa, or something special, we've got you covered with gifts of every size (and budget).
Murder She Said : The Quotable Miss Marple
A collectable book of quotations from the inimitable Miss Marple. With an exclusive introduction to the character, and sections on 'The Art of Conversation', 'Murder!' and 'Human Nature', this pocketbook contains enough wisdom to get you through the festive season, and the year to come. We also recommend Little Grey Cells, the quotable Poirot companion. Shop Amazon.co.uk | Shop Amazon.com
Agatha Christie's Death on the Cards
There's a murderer in our midst! Using cunning detective skills and clever team work, to solve the mystery (whilst the culprit tries to fool you all). Treat a friend or relative to this new card game inspired by Christie's characters, suitable for 2-6 players. Starring Hercule Poirot, Miss Marple, Mr Quin, Ariadne Oliver and plenty more, the game lasts between 20-40 minutes, ideal for that after dinner lull. It will be released in late November 2019, but you can pre-order it now from our games partner, Modiphius, who ship internationally. Pre-order Death on the Cards
Share Agatha Christie's best-selling novel ever this Christmas. As guests (and perfect strangers) are picked off one-by-one on Soldier Island, fear begins to mount. Will the murderer be caught? This new edition, to celebrate the story in its 80th year, will make an excellent gift for fans, or act as an equally good introduction to Christie's works. Shop Amazon.co.uk | Shop Amazon.com
The perfect festive treat! This country house mystery dazzles in a sparkling new hardback design. Cruel patriarch Simeon Lee has invited all his children to Gorston Hall for a Christmas to remember…Taking place over 7 days in December, the Lee family are lucky Poirot is staying in a nearby village when the murderer strikes. Or are they? Shop Amazon.co.uk
A classic story in an unforgettable package. The Folio Society's illustrated hardback would be gratefully received by any classic crime aficionado. Poirot's retirement doesn't go to plan, when the seemingly sleepy village of Kings Abbot plays host to a violent murder. Blackmail, illicit love affairs, drug addiction and death are just a few of the problems here. This edition includes an exclusive introduction from Sophie Hannah and illustrations from Andrew Davidson. Shop The Folio Society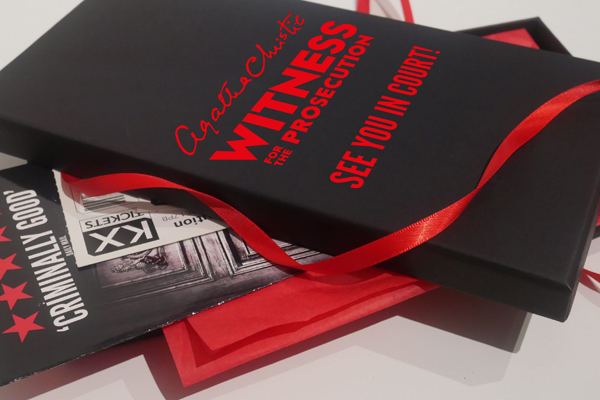 If you fancy getting them a gift they'll never forget, we recommend one of Witness for the Prosecution's gift packages. Leonard Vole stands accused of murdering his new 'friend', the very wealthy Emily French. Spend an evening at London County Hall, with a Courtroom, Judge or Jury ticket and decide for yourself who committed this deadly crime. Don't miss this stunning show in an utterly unique venue. Shop the gift packages
This new spooky short story collection is ideal for thriller fans, and readers who like a fright. Featuring 20 stories that will put your nerves on edge, including one previously unpublished before in the US, 'The Wife of the Kenite'. Expect ghosts, curses, inanimate objects taking on a life of their own, and plenty of creepy characters. An unexpected Christie gift they'll love. Shop Amazon.co.uk | Shop Amazon.com
Sophie Hannah's Poirot continuation novels
Perfect for contemporary crime fans! Sophie Hannah's three continuation novels, The Monogram Murders, Closed Casket and The Mystery of Three Quarters would make a great gift for curious readers. The trio also have a gilded new look in the UK, perfect to indulge a friend or loved one. Shop Amazon.co.uk | Shop Amazon.com
Read it before you see it! The forthcoming TV adaptation of The Pale Horse will star Rufus Sewell, Kaya Scodelario, Bertie Carvel and Sean Pertwee. But why wait to discover this supernatural 60s story? An unusual tale of witches, betrayal, and a murderous list which obsesses the protagonist, Mark Easterbrook. Treat fans to the book this Christmas. Shop Amazon.co.uk | Shop Amazon.com
We're so excited to discover 20th Century Fox's Death on the Nile in 2020. Acquaint yourselves with the characters who star, take a trip on an Egyptian steamer, and keep your eyes peeled for clues in one of Christie's best-selling stories. This mystery is a favourite for so many reasons. Shop Amazon.co.uk | Shop Amazon.com
Estuche Agatha Christie Esencial: 2

Due out later this month in Spain, this smart set of stories contains The Mysterious Affair at Styles, And There There Were None and Crooked House. If you're sharing your love of Christie with someone new to her, this set is a brilliant place to start. It's an equally generous gift for devotees to treasure too! Shop Amazon.es

Рождество Эркюля Пуаро

Celebrate the season with not one, but two classic Christmas stories! This Russian edition of Hercule Poirot's Christmas also features 'The Adventure of the Christmas Pudding'. A perfect thank you present if you're staying with friends or relatives over the holidays. Shop Eksmo.ru
Es Begab sich Aber

This lesser-known Christie collection is ideal for seasonal reading, and we love this wintery cover from Atlantik. Shop Amazon.de We also can't resist this edition of The Adventure of the Christmas Pudding, which evokes festive cheer and merriment. Splash out on both for yourselves, or share with a fellow Christie fan. Shop Amazon.de
Mort sur le Nil

This graphic novel edition of Death on the Nile has been wowing fans ever since it arrived in France this autumn. The full-colour, beautifully illustrated version of the 1937 story will be gratefully received by anyone looking to escape the cold winter weather. Shop Amazon.fr
Why not collect the set? Shop Crime l'Orient Express | Rendez-vous avec la Mort

Still need some inspiration? Explore our themed reading lists for story suggestions and other ideas.