Features
Armchair Travel: The Agatha Christie Luggage Tag
The lack of international travel doesn't mean your holiday spirit has to be cancelled. Celebrate the escapism of reading a good Christie with our armchair travel activities.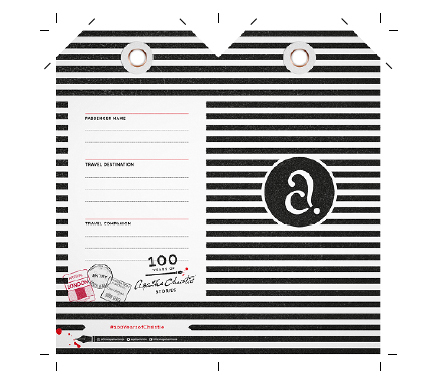 The Agatha Christie printable is perfect for sharing your reading journey with us.
You'll need: A4 Paper, kitchen scissors, glue stick or double-sided tape, ribbon or string (optional: hole punch)
What to do?
Download the activity using the button below
Save it onto your computer and press print
Follow the cutting instructions to create your own luggage tag
Cut/hole-punch the circle and thread a piece of string or ribbon through it
Fill in the details to determine where your story will take you
Attach the luggage tag to a bag and photograph
You can share your book title with us, or just fill out the details and make others guess what you'll be reading
So here goes...
passenger name: Sarah Thrift
travel destination: Devon
travel companion: Hercule Poirot
Can you guess what I'm reading at the moment?