News
The Christie Christmas Gift Guide 2020
The end of the year is fast-approaching, and what an unexpected 2020 we have all had. We hope this round-up of Christie Christmas treats will spark some ideas, help those shopping for gifts, and encourage fans to share their love of reading this year. It has been 100 years since Agatha Christie's first novel was first published, and we have been delighted to see people seeking comfort in her works throughout the year. Here's to a brighter 2021, filled with stories, shared passions and a healthy dose of Poirot.
Books
Death on the Nile (Various Editions)
The 20th Century Studios adaptation of Death on the Nile hasn't yet hit the big screens, so there's time to read it before you see it. To celebrate the return of this epic story, there are plenty of eye-catching editions of the novel on sale around the world. Keep your eyes peeled for the film tie-in edition, featuring the dazzling steamer! In the US, readers can get their hands on a colourful hardback, or this Barnes & Noble exclusive collection, which also features The ABC Murders and Five Little Pigs. In the UK, the gilded Death on the Nile hardback will make a great addition to the bookshelves of any fan, plus there's also a Waterstones exclusive paperback if you're on the look-out for a suitable secret Santa choice. The book is published in over 60 languages, and it is also available as a new audio recording, read by Kenneth Branagh.
Shop Amazon.com | Shop Amazon.co.uk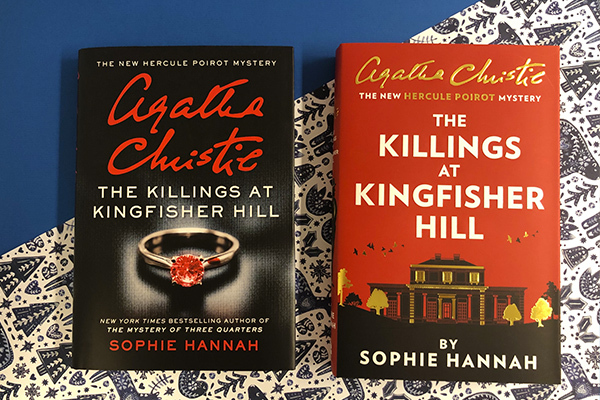 The Killings at Kingfisher Hill

The fourth Poirot continuation novel, written by Sophie Hannah, would make an excellent gift for fans of the Belgian detective who are yet to discover this new series. A Sunday Times bestseller, the book allows the reader to escape to the luxury Kingfisher Hill estate where Poirot and Inspector Catchpool must solve a puzzling family mystery, and avoid being asked to stay for board games… The novel is currently available in Australia, Estonia, France, Hungary, India, the Netherlands, Portugal, Poland, Sweden, the US and the UK. Further international publications will follow next year.
Shop Amazon.com | Shop Amazon.co.uk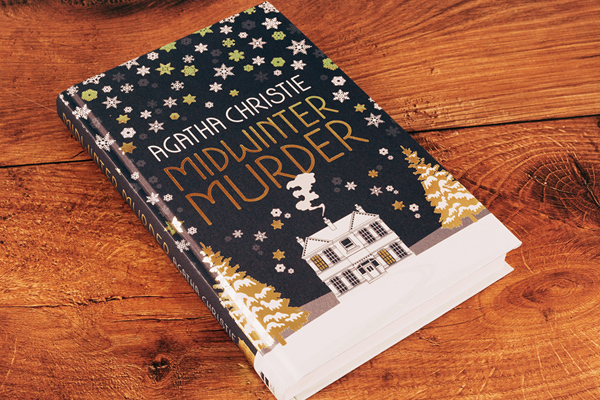 Midwinter Murder
This newly collected selection of winter stories has already hit the New York Times bestseller list. Featuring short stories set in the coldest months, there's a handful of festive favourites too to keep an avid Christmas fan happy. Explore 'The Chocolate Box', delve into 'The Mystery of Hunter's Lodge' and settle down with 'Christmas Adventure'. It is available in a gilded hardback gift edition in the UK, and in paperback in the US. It is also due for release in Hungary, Italy, and Poland this year. It will be released in the Czech Republic, Estonia, and France in 2021.
Shop Amazon.com | Shop Amazon.co.uk
The Mysterious Affair at Styles (Various Editions)
Introduce a friend or family member to Agatha Christie with the book that began her career 100 years ago, The Mysterious Affair at Styles. In her debut novel, Christie created the character of Hercule Poirot, showcased her knowledge of poisons (which would influence many of her works) and kick-started an epic career. To celebrate 100 years of Christie stories, plenty of our publishers have created new editions this year. We love this gorgeous new Swedish edition.

Shop Amazon.com | Shop Amazon.co.uk
Agatha Christie's Poirot: The Best Detective in the World
This new book from Mark Aldridge will make a perfect gift for Poirot aficionados. It acts as a comprehensive guide to 100 years of the character, and includes over 400 images, as well as original research, unseen correspondence and review excerpts which will intrigue and entertain in equal measure. The foreword has been written by Mark Gatiss.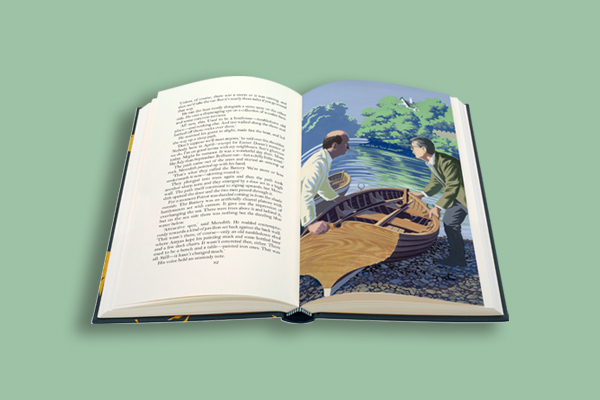 Five Little Pigs (Folio Society Edition)
Considered one of Christie's greatest murder mysteries and one of Poirot's best too, this stunning Folio edition of Five Little Pigs would make a lovely gift for someone special this year. It is illustrated by award-winning artist Andrew Davidson, and has a striking silhouette design on the binding (which might just offer a little clue to the mystery itself). A luxury item which would be gratefully received.
Shop the Folio Society website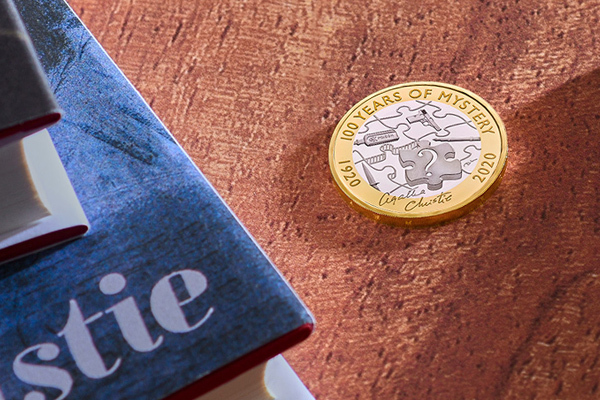 The Agatha Christie £2 coin
The Royal Mint's Agatha Christie £2 coin was released in September 2020. With prices starting from £10, this unique souvenir would make a lovely present for a fan, or a collector. Designed to celebrate 100 years of Agatha Christie mysteries, it is beautifully designed, year-dated to commemorate her centenary, and bears the inscription 'LITTLE GREY CELLS'. The Royal Mint website ships internationally.
The official Christie gift range (Homeware)
We think this range of mugs, tote bag and glasses case would make excellent gifts! All of these smart items carry specially selected quotes from Christie (and her works), alongside gilded illustrations. Priced from just £9.99, these are smart yet affordable too.
Shop at Waterstones | Shop at Shruti Designs
Karen Mabon's Agatha Christie range (Fashion)
This brand new capsule collection from Karen Mabon includes two luxury scarf designs and a silk pyjama set, all inspired by Agatha Christie's works and imagination. Treat the most stylish fan you know to some stunning sleepwear, or a unique scarf that shows off their love of the Queen of Crime.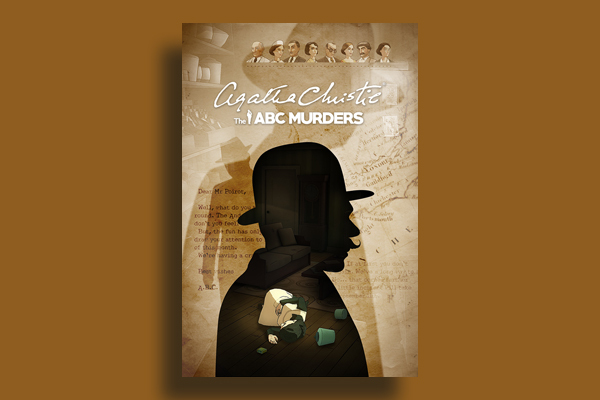 The ABC Murders (Game)
This popular game, originally released in 2016, has had an upgrade across PlayStation and Xbox, and is also now available on Nintendo Switch. Play your part as Poirot by trying to hunt down the murderer wreaking havoc across England, known only as A. B. C.
Shop Amazon.com | Shop Amazon.co.uk
Agatha Christie's Death on the Cards (Game)
Perfect for diffusing tension at home, this fast-paced card game featuring Christie's most famous characters would make a great Christmas gift. Whether you're shopping for keen tabletop game players, or just looking for something to enjoy after dinner, this is a murderously good investment.
Shop at Waterstones | Shop at Barnes & Noble | Shop at Modiphius

The Pale Horse (Book, DVD and Soundtrack)
It is hard to believe The Pale Horse only aired on BBC One and Amazon Prime earlier this year. So much has happened in 2020, and if you are longing for a little escape from the everyday (and a dose of the supernatural) we recommend reading this spooky Christie story, purchasing the DVD to watch at home, or even enjoying the marvellous soundtrack. There are plenty of ways to get lost in the deadly world of Mark Easterbrook.

Shop the book | Shop the DVD | Shop the soundtrack
International Editions
Murder, She Said and Little Grey Cells (The Quote Books)
These two quotebooks make excellent stocking fillers for avid Agatha Christie fans. Featuring famous (and lesser-known) character quotes, they also include an expert introduction to Christie's most famous detectives. Available internationally, we are particularly fond of the Marple edition from France, Vous Avez Dit Meurtre? Which one will you choose?
Little Grey Cells | Murder, She Said

Les Quatre et Mort sur le Nil (fac-similé prestige, France)
These small vintage hardbacks mirror the original facsimile printed editions. Lattes bring out just two a year in a limited print run, and we've fallen for this year's selection, The Big Four and Death on the Nile. Perfectly sized for carrying around with you, these pocket-sized stories mean the recipient will never find themselves stuck without a book again.
Shop Les Quatre | Shop Mort sur le Nil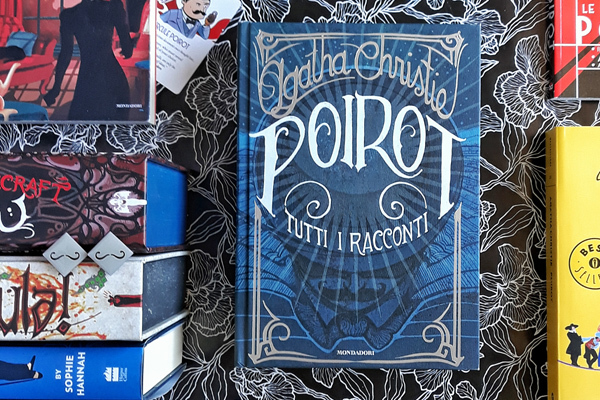 Poirot : Tutti i Racconti (Italy)
This smart new collection contains all the Poirot short stories for readers to explore and enjoy. A crime compendium, this would make the perfect introduction for a new reader, or a thoughtful Christmas gift for dedicated fans. Explore some of the Belgian detective's best cases, discover more about his past, and attempt to solve some puzzling mysteries by his side.
N.B. This article contains Amazon affiliate links, so we earn a small commission on purchases made through links in this post.