Features
Evil Under the Sun : An Introduction
This article was written by Sahiba Sethi. Sahiba is a book reviewer and bookstagrammer at @dumbwitnesses.
I remember the first time I was introduced to the world of Agatha Christie; I was 11 years old and heavily into mystery novels when my grandparents decided it was time for me to graduate within the genre and sat me down to watch the 1974 film adaptation of Murder on the Orient Express. Naturally, I was hooked, and one after another I raced through all of the Poirot novels. I am now a part-time crime fiction blogger over on Instagram (@dumbwitnesses), and as you may be able to tell by my very obvious Christie-eque handle, my love for her novels has lived on. I continue to read her books often (even though I don't have many left!), and it didn't take me long to figure out that Evil Under the Sun was my absolute favourite of the lot, which is why I am so pleased that I get to tell you about it.
The novel opens on an exclusive seaside resort, the Jolly Roger hotel in Southern England where the wealthy get away for some peace, quiet and a tan. Of course, not all remains jolly once femme fatale Arlena Stuart steps on to the scene and causes a stir amongst the hotel guests. The beautiful Arlena, as she is so often referred to in the novel, does a good job of ruffling a few feathers before she is found strangled on a secluded beach. Everyone at the hotel had a motive to kill her but everyone also had a cast-iron alibi – was it her new husband with the stiff upper lip? The awkward and resentful stepdaughter? Or, could it have been her new lover? Or his jealous wife perhaps? On the list of suspects is also the religious fanatic who loathed women like Arlena, the over-enthusiastic fitness junkie, the overcompensating American couple, the renowned dressmaker who is in love with Arlena's husband, the loud and obnoxious sailor and the ex-army bore.
And how could I forget my favourite Belgian detective, Hercule Poirot? It seems that even on holiday, he can't catch a break. Faced with this deliciously varied cast, red herrings and random clues scattered around the island – scissors, bottles chucked out of windows, sandwich tins – Poirot is tasked with putting together the pieces of one of his most intricate puzzles ever. I thought I had guessed the murderer but when the conclusion was finally drawn out it left me gasping in surprise. Weaved through the pages are the very dark threads of adultery, blackmail, drugs and black magic – in true Christie fashion, this story completely transcends the time period it is set in and will have you twisting and turning all the way till the very end.
It is peaceful. The sun shines. The sea is blue. But you forget, Miss Brewster, there is evil everywhere under the sun.
What was interesting to me was how fleshed out every character was considering the novel is so fast paced. The female characters, in particular, were very relatable and intriguing with various shades of their personalities colouring the Devonshire scenery – the young stepdaughter, Linda reminded me of myself as a teenager with all that bottled up angst, while Miss Brewster is just like my gym bunny friend whom I absolutely detest and admire at the same time. My favourite, though, was the dressmaker Rosamund Darnley who is a strong, successful woman – and by extension, very inspirational, especially given that she set up a major fashion house and ran the business single-handedly in the 1930s!
Crime fiction is my go-to genre, and the best books for me are ones that have a tight plot, interesting and consistent characters and a satisfying conclusion where random people don't show up in the last ten pages and lob your detective work out of the window. Thankfully, Christie always secures these plugholes, which is why I often return to her when I am in need of some TLC. And if you're anything like me, you know how comforting crime fiction can be. It's certainly odd when you think about it, but I tell you the escapism you get from a crime novel, especially a classic one, is unmatched!
Now usually I'd snuggle up in bed with a blanket and a cup of tea to read a Christie book, but for this one you're going to need an Aperol Spritz and a hat. It is the perfect summer read whether you're lucky enough to be enjoying the weather in your back garden or you're sat on the sofa just pretending. Althoughthe novel is set on a private island with barely a dozen guests, nearly everyone in the novel is people-watching, eavesdropping or gossiping, and you can indulge your guilty pleasures (we all have them!) via the book because let's face it, no downtime is complete without a little drama.
I am absolutely in love with this new edition of Evil Under the Sun – I am not always keen on contemporary crime book covers because they can look a bit same-y, but this one stood out in the crowd with its understated look and unusual choice of colours. The orange brings to mind that heat across my bare feet as I walk from the sand on to blazing tarmac and hurriedly tiptoe onto cooler ground, while the darker greens and blacks evoke sultry summer evenings out on the balcony after dinner - perfect escapism, wouldn't you say?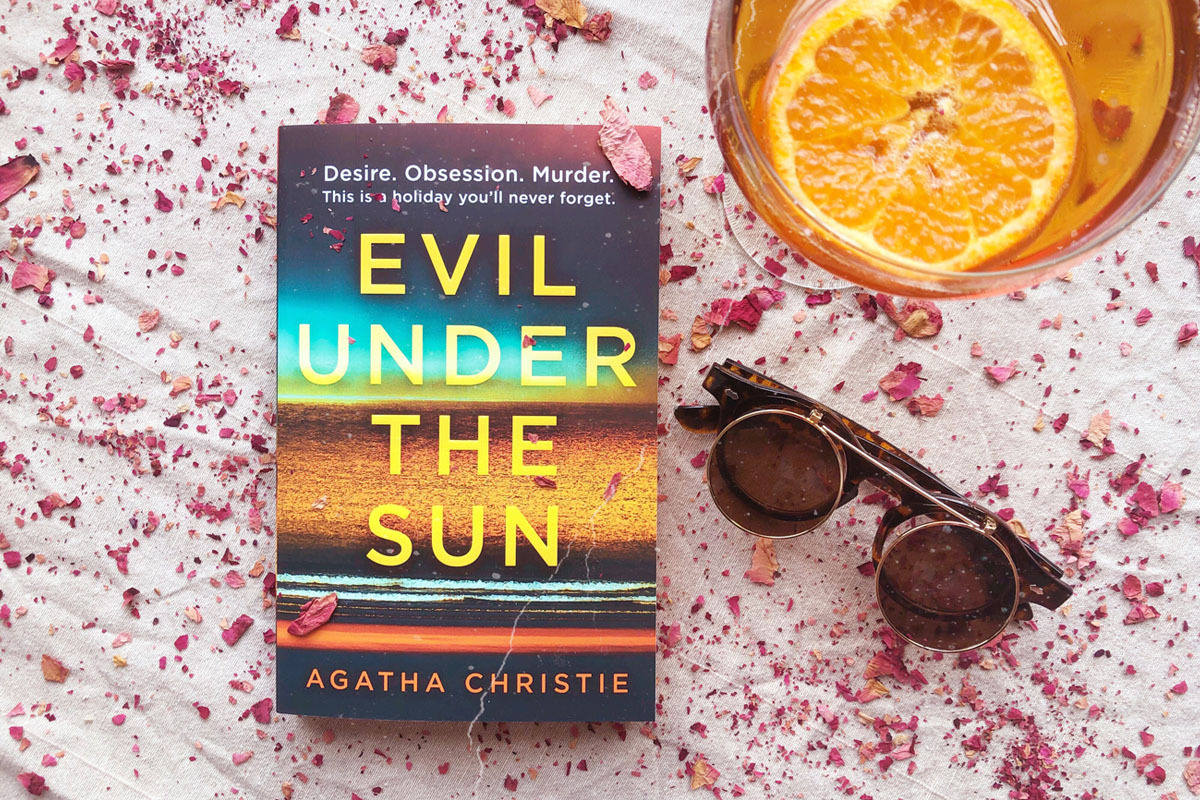 For those readers who are new to Christie and are starting off with this book, I must say I am excited for you. The one question I get asked most often is which Christie book to begin with and I always suggest Evil Under the Sun. It has all the finery of Christie's literary craftsmanship, witty dialogue and her expert knack of making an intricate plot seem so simple at the end. Make sure to pack a couple more though, because you're not going to want to stop reading her books after you're done with this one.
Finally as I sign off, I'd like to wish you a lovely read and some much-needed downtime! Once you've finished this book, do join us at Read Christie 2020, where we read a different book every month and then have a discussion about them on the Agatha Christie Ltd social channels.
Bonne chance, mon ami!