John Curran: 75 Facts About Christie
John Curran is the author of the Edgar Award winning Agatha Christie's Secret Notebooks and Murder in the Making. Read on to discover 75 facts about Agatha Christie that he compiled.

1. In her early years Agatha Christie didn't go to school but was educated at home by her mother and a succession of governesses.

2. She wrote her first book, The Mysterious Affair at Styles, as the result of a challenge from her sister Madge.

3. In her late teens she studied to be a classical musician but was too nervous to perform.

4. She is the only crime writer to have created two equally famous and much loved characters - Hercule Poirot and Miss Marple.

5. She is the only female dramatist ever to have had three plays running simultaneously in London's West End.



6. Endless Night is narrated by a young working-class male - and she wrote it when she was 76.

7. In 1922 she travelled around the world.

8. Her first book waited four years before publication having been rejected by six publishers.

9. She wrote six bittersweet novels under the name Mary Westmacott.

10. She wrote an entire book over one weekend: Absent in the Spring by Mary Westmacott.

11. When she adapted four of her Poirot novels for the stage she dropped Poirot completely.

12. Hallowe'en Party is dedicated to P.G.Wodehouse whom she admired.

13. She dedicated The Mirror Crack'd from Side to Side to Margaret Rutherford - the first cinema Miss Marple.

14. She was a dog lover.

15. She described The Mystery of the Blue Train as 'easily the worst book I ever wrote'.



16. When he died, Hercule Poirot was given a full-page obituary in The New York Times.

17. Her favourite colour was green.

18. She never said, 'An archaeologist is the best husband a woman can have because the older she gets the more interested he becomes in her' although it is often attributed to her.

19. Her holiday home in Devon, Greenway House, was requisitioned by the U.S. Coastguard during the Second World War.

20. She has a rose named after her.

21. She is the only crime novelist to achieve equal and international fame as a dramatist.

22. For many years she was the President of the local amateur drama society in Wallingford, where she lived with her second husband Max Mallowan.
23. She was a teetotaller and non-smoker.

24. For many years she set and corrected an essay competition for the pupils of the local school in Galmpton, Devon.

25. On the day she died the West End theatres dimmed their lights for one hour.

26. Miss Marple was inspired by her maternal grandmother and friends.

27. Two of her pet hates were marmalade pudding and cockroaches.

28. Her favourite writers were Elizabeth Bowen and Graham Greene.

29. When she wrote the part of Clarissa in Spider's Web for the film star Margaret Lockwood, she also, unasked, created a role for Lockwood's daughter.

30. The first stage Poirot was Charles Laughton.

31. On 13th April 1917 she qualified as a dispenser, thus acquiring her knowledge of poisons.

32. Twice in her life she 'saw' Hercule Poirot - once lunching in the Savoy and once on a boat in the Canary Islands.



33. In her 1942 Miss Marple novel The Body in the Library she mentions herself by name.

34. Her last public appearance was at the 1974 premiere of Murder on the Orient Express.

35. After seeing Joan Hickson in Murder on the Nile in 1946 she wrote to her hoping that 'one day you will play my Miss Marple.'

36. She has a classroom named after her in the local school in Galmpton, Devon.

37. One of her life's passions was music, especially the operas of Wagner.

38. In 1931 she read one of her own stories on BBC radio.

39. The Mousetrap began life as a 20 minute radio play.

40. She suffered from seasickness – as does Poirot.

41. She was the first crime writer to have 100,000 copies of ten of her titles published by Penguin on the same day in 1948 - A Penguin Million.

42. Her work on archaeological digs led to her becoming an expert photographer.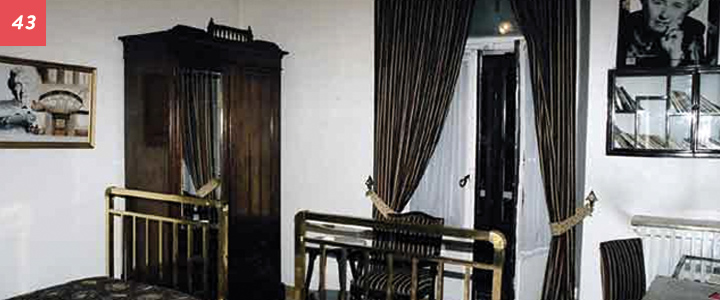 43. The Pera Palace Hotel in Istanbul has an Agatha Christie Room where, it claims, she wrote Murder on the Orient Express.

44. The Mysterious Affair at Styles earned her the princely sum of £25.

45. A musical version of Hickory Dickory Dock, 'Death Beat', was planned in the early 1960s.

46. She wrote a film script for Charles Dickens' Bleak House in 1962.

47. When Penguin paperbacks were launched in 1935 The Mysterious Affair at Styles was one of the first 10 titles.

48. The first TV Miss Marple in 1956 was Gracie Fields in A Murder is Announced.

49. Her favourite composers were Elgar, Sibelius and Wagner.



50. She accepted the Presidency of the famous Detection Club in 1958 on the strict understanding that she would never have to make a speech.

51. Her 1927 title The Big Four was, in reality, a series of short stories reworked into a novel.

52. The Murder at the Vicarage was one of the first titles in Collins' famous Crime Club series.

53. The first ever screen version of a Christie novel was a German one: Die Abenteuer G.M.B.H. (The Secret Adversary).

54. A pile of all of the US editions of Peril at End House would stretch to the moon.

55. The Mary Westmacott pseudonym remained a secret for almost 20 years.

56. The original programme for The Mousetrap had no title on the cover - just a mousetrap on a splash of red.

57. Agatha Christie's name has appeared every day for the last 53 years in every newspaper with a West End theatre listing (save for the corona virus outbreak in 2020!).

58. In 1954 she was the recipient of the first ever Grandmaster Award from the Mystery Writers of America.

59. She very rarely allowed any representation of Poirot to appear on book jackets.

60. In 1961 she was conferred with an honorary degree from the University of Exeter.

61. In 1993 a Christie play, Chimneys, received its premiere in Canada - over 60 years after it was written.

62. At the Bouchercon World Mystery Convention in May 2000 she was named Mystery Writer of the Century and the Poirot books Mystery Series of the Century.



63. Agatha Christie is a character in the David Tennant Doctor Who episode "The Unicorn and the Wasp," where she helps the Doctor and his companion Donna Noble solve a series of murders that parallel her works and the board game Clue(do). Fenella Woolgar played Christie.

64. Of her own work her favourite play was Witness for the Prosecution.

65. Agatha Christie and her novels have been a 'Mastermind' subject on three occasions.

66. Her favourite flower was Lily of the Valley.

67. In 1955 Agatha Christie became a Limited Company.

68. There is a bronze bust of her on Carey Green in Torquay.

69. She wrote her autobiography over a period of 15 years: 1950 - 1965.

70. In 1972 she was immortalised in Madame Tussauds.

71. She named her house Styles in 1924 after the success of her first novel.

72. Three Act Tragedy in 1935, became her first title to sell 10,000 copies in its first year.

73. Two of the Margaret Rutherford films are based on Poirot books; a third has no connection with Agatha Christie at all. Only Murder, She Said is truly a Miss Marple story.

74. She wrote many of her novels while on archaeological digs, many of them in a specially built house called 'Beit Agatha'.

75. The Malice Domestic Convention in U.S (devoted to 'cosy' crime fiction) presents an annual award - The Agatha.